News


Ongoing (February 22 - March 22, 2014) at the Widget Art Gallery for IPhone, IPad and osx-Dashboard: "Lenticular Encryption" by Prosthetic Knowledge.
This is an experimental project that examines the aesthetics of lenticularization and extends the creative possibilities of the GIF format.
Lenticularization of an image allows the viewer to be presented with additional visual information within the same space, dependent on angle. Striped of lenticular sheets, we see that information altogether, almost theoretically identical to the Cubist idea of relativity presented as one. This project aims to appreciate the encrypted information as it is as well as decoded with additional media. Also, it aims to highlight and hopefully inspire the idea that there is more that can be done with the GIF medium - new tricks and methods can be applied to animation making, whether it is 'flipping' from one image to another, or added depth ... Gif making can have additional visual narratives. Prosthetic Knowledge which is a Tumblr blog about art, tech, and creativity.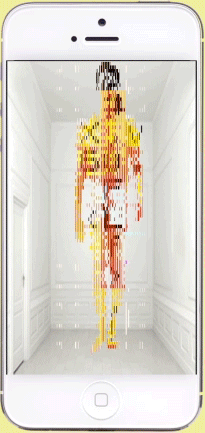 Exhibitions and conferences:

- Special project #02: "The fourth dimension banner", site-spacific net-artwork at arshake.com December 20th 2013 – March 10th 2014. Critic text (Eng. It.) by Elena Giulia Rossi.

- A-EYE: An exhibition of art and nature­-inspired computation. 1-4 April 2014, Goldsmiths, University of London. (The garden naif).

- 10th Pictoplasma conference & festival, Berlin 30 APRIL - 4 MAY 2014.

- XIII Festival Internacional de la Imagen. 5-9 May 2014, Manizales, Colombia (Live sculpture).

- Visual and Performing Arts Conference Athens, at ATINER 2-5 June 2014 (Live sculpture).

- App Art Award. 5-6 June 2014, ZKM Museum Karlsruhe (Jury team).

- Arts in Society : "The Lives of Art". Sapienza University of Rome, 25-27 June 2014. (Widget art gallery).

- EVA Electronic visualisation technologies in arts. Conference 8th - 10th July 2014, CENTRAL LONDON VENUE IN COVENT GARDEN (Widget art gallery).

Papers and interviews:

- Gizmodo on the Widget Art Gallery show of this month: "Lenticular Encryption" by Prosthetic Knowledge.

- 'Ideasonair.net-blogging as an open art project', IPad e-Book (Forthcoming).